How to Grow Variegated Monkey Ball Vine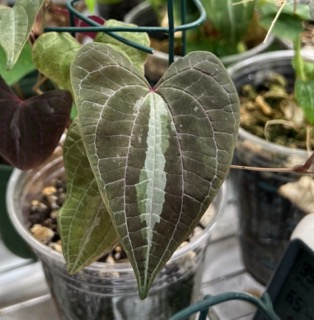 What is this plant, the Variegated Monkey Ball Vine, and where do I get it?
As soon as I saw this plant, I had to have it, the leaves are amazing with unique colors. Technically, this plant was called Dioscorea Discolor (monkey ball vine) but now the proper botanical name for it is D. Dodecaneura. I just call it the variegated yam because that is easier. I was fortunate enough to get this plant from Almost Eden Plants back in May of 2021 because I signed up to be notified by email when it came back in stock. You can still sign up for the email list but I have noticed they have not been in stock this year. I signed up again to be notified because I thought that I had lost the plant from my lack of proper care.
Please note: This post contains affiliate links. I may earn a commission on some items linked on this page.
How to care for this plant
In order for this plant to thrive, it needs well bright light and well draining soil but it also doesn't like to dry out. When I received the plant, I kept it in my sunroom. My sunroom was not air conditioned at that time so the plant dried out very easy because it gets very hot in the sunroom during the summer months. I had great difficulty keeping up with the watering of this plant at that time so it suffered and part of it started to go into dormancy, I actually thought it was dying off but it wasn't. Come winter, some of the last remaining leaves died off so I took the tubers out of the soil and kept them dry so they wouldn't rot. I ended up not planting them until spring to try to bring them out of dormancy.
Propagation
If you want to propagate this plant, you can achieve this by taking it out of the pot and dividing the tubers. I am not sure if you can propagate by cuttings but I plan to try this out in the future.
Bringing the tubers out of dormancy
In the spring, I tried putting the tubers in dirt and all except 1 became mushy and rotted even in the IKEA greenhouse and grow tent. I was devastated by this so I started looking to obtain another plant but was unsuccessful in doing so. I decided to try some do it yourself PON since I couldn't get a hold of the real PON here in the states at the time. I had ordered PON from Amazon but they kept saying that they were still trying to get it over and over so I canceled the order. I made the DIY PON by ordering the separate "soil" mediums from Amazon and mixed it myself. You just take equal parts of pumice, zeolite stones, black lava rocks and vermiculite and mix it together. You should also add some granules of fertilizer if you don't plan to use liquid fertilizer.
Once the tubers are out of dormancy
I had planted the tuber upside down in the DIY PON and it still grew a stem and leaf and it looked really healthy. Unfortunately, it tried to grow another leaf but it died back before it grew bigger while still in the DIY. Then the first leaf it grew started to look bad so I decided to transplant into soil. Once I got it into soil, it started growing additional leaves in a few days. I did have the plant in my grow tent for the heat and humidity but it should do well in an IKEA greenhouse or next to a bright window with some added humidity. When it goes into dormancy, the tubers should be stored in a dry place so they don't rot or leave in soil and stop watering until spring when there is new growth. I highly recommend this plant for aroid lovers because the leaves are amazing and they get pretty bid.
The Plant Utopia.com is a participant in the Amazon Services LLC Associates Program, an affiliate advertising program designed to provide a means for website owners to earn advertising fees by advertising and linking to amazon.com, audible.com, and any other website that may be affiliated with Amazon Service LLC Associates Program.
There are links on this page that can be defined as "affiliate links". This means that I may receive a small commission (at no cost to you) if you subscribe or purchase something through some links on The Plant Utopia.com. You will be alerted in a popup titled "Amazon affiliate link" for any product or service link that points to Amazon.