Just some ramblings of frustration and updates on a couple of my favorite plants – Alocasia Baginda Silver Dragon and Anthurium Crystallinum x Magnificum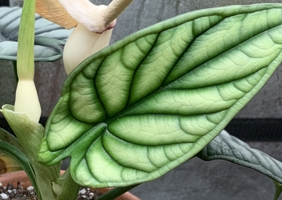 When I received my Alocasia Baginda Silver Dragon, I didn't have much hope for this plant. She came to me with mostly broken and bent stems due to the seller not shipping the plant very well. It was obvious that the seller didn't really care about the plant and they are only in it for the money. You can tell if someone has enjoyment in what they do in the end product they deliver and there was definitely no pride there.
I paid too much for this plant, because it is very hard to come by around here so I expected to at least get a plant that was undamaged. I did contact the seller and tell them how the plant arrived and they did not provide any support or empathy. So I decided to just let it go and hope for the best. I reached out to a fellow plant tuber Suzette's Garden and told her how the plant arrived with broken stems and she suggested that I tape the bent stems. So I taped up the bent stems and placed my silver dragon into my grow tent and hoped for the best.
Fast forward to today, February 4th of 2020, and the silver dragon is thriving in it's current environment and she has put out 2 blooms and another leaf. I have never seen a Baginda with 2 blooms or any other Alocasia with more than 1 bloom. I imagine this Alocasia would be okay growing in a normal home environment if you provide enough light and humidity but I don't know if it will bloom. I do recommend this plant if you can find it because it is one of the least spider mite attracting Alocasias I can find. Usually Alocasias are riddled with spider mites unless you keep them very humid.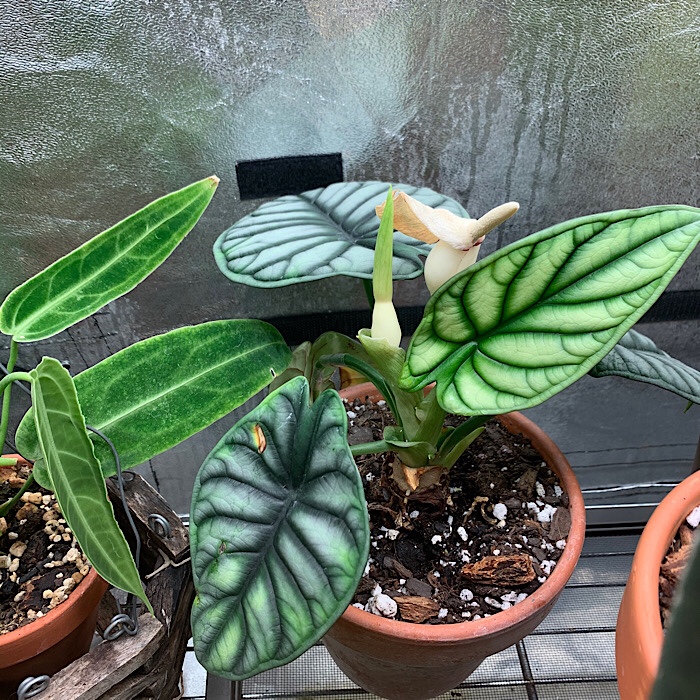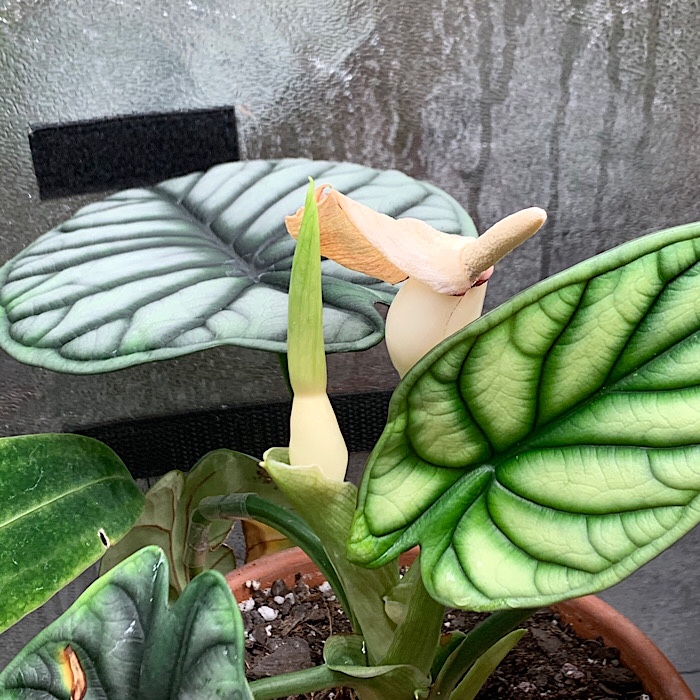 Look at this beautiful Anthurium Crystallinum x Magnificum with that huge leaf. I won this beauty on eBay from NSE Tropicals a year or so ago and this plant came beautiful and continues to impress and grow. NSE Tropicals is top notch when it comes to shipping and Enid would never ship a plant with broken and bent stems as that other seller did. This guy is another hard to find plant and I think this guy is more difficult to find than Silver Dragon. I really wish these plants were more readily available and were more cost effective because there are so many people that want them but can't get them.
If you are interested in seeing the unboxing of my Silver Dragon see below because I have including the unboxing video that I made for my Youtube channel.